Staff Run Race for Life
19.6.09 Residential
Tina Harrison, Receptionist and Secretary at Taylor Lindsey has again taken part in this years Race for Life for…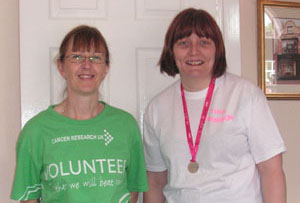 Tina Harrison, Receptionist and Secretary at Taylor Lindsey has again taken part in this years Race for Life for Cancer Research UK.
Tina who has worked for Taylor Lindsey for 8 years has entered this event for the last 5 years and is delighted with the continuing company sponsorship for this worthy charity.
The event, held at RAF Waddington, saw over 4000 women hoping to raise in excess of £210,000.
Tina commented " I am proud to take part in the event every year. Whilst being a really fun day it is important to raise much needed money for this charity".
Also supporting the event was Karen Kane, Accounts Manager, who assisted in the marshalling of the event and handed out well deserved refreshments. Karen a keen runner herself, commented on the fantastic turnout and hoped that the event would raise well above the targeted amount.