NEW LINCOLN REGIONAL HUB FOR BROWN & CO
1.7.19 Commercial
Taylor Lindsey has submitted a planning application to the City of Lincoln Council for a new detached office building…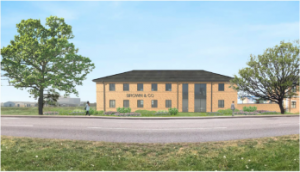 Taylor Lindsey has submitted a planning application to the City of Lincoln Council for a new detached office building on Doddington Road, Lincoln, to be occupied by Chartered Surveyors Brown & Co.
The Grantham and Spalding offices of the Lincolnshire and East Anglia based surveying practice will move to the new 5,000 sq ft building in late Summer 2020.  The building will provide state of the art office premises over two floors with on-site car parking for staff and clients. 
Brown & Co managing partner Charles Whitaker said: 'As a firm we are committed to continuously improving our client offer and the launch of the Lincoln regional hub is intrinsic to achieving this'. He added: 'Locating both teams plus additional new professionals in Lincoln will enable us to offer a truly multi-divisional service from this location'. 
Dan Race, Development Director with Taylor Lindsey said: 'We are seeing strong demand for our commercial developments at Doddington Road and Teal Park; the availability of prominent, main road frontage in an accessible location just off the bypass is proving very popular.  We look forward to seeing Brown & Co. in their new offices and we feel that their move into Lincoln will be a very good addition to the range of property professionals working in the city'.