Mick Wray Site Award
14.8.15 Residential
Taylor Lindsey Homes, Site Manager Mick Wray of the Minster Fields development has been recognised by the National House…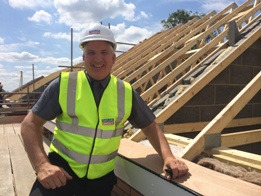 Taylor Lindsey Homes, Site Manager Mick Wray of the Minster Fields development has been recognised by the National House Building Council (NHBC) for the professional and high quality of his work with a National Pride in the Job Quality Award for the second year running.
The NHBC Pride in the Job is considered as the house building industry's most prestigious award programme and honours the best site managers from across the UK.  Mick was selected from over 15,000 entrants and judged on various criteria, including consistency of high standards, leadership, technical expertise and site safety.
Mick said "The first thing people mention when they visit the development is the high quality finish and attention to detail.  My team and I take time to ensure everything is perfect and we are very proud to receive this sought after award again."
James Taylor, Director of Taylor Lindsey said "Competition for the NHBC award is always strong. I am delighted for Mick and his team for the recognition by the NHBC of the high quality of their work at Minster Fields and hope they further their success in the next stage of the awards."
Minster Fields is a development of 374 homes on Wolsey Way in Lincoln offering 2, 3, 4 and 5 bedroom houses.
The National Pride in the Job Award will be presented at the East Regional Ceremony, held in Leicester, in September where Mick will be shortlisted for the Seal of Excellence.