TAYLOR LINDSEY HOMES RENEW FOOTBALL SPONSORSHIP
29.1.15 Residential
Taylor Lindsey Homes has agreed to continue the sponsorship of Cherry Willingham Football Club by supplying a new kit. …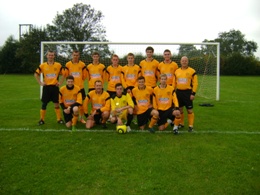 Taylor Lindsey Homes has agreed to continue the sponsorship of Cherry Willingham Football Club by supplying a new kit.  The bright orange shirt and shorts replaces the red kit donated to the club previously.
The Saturday team who currently play in the Harrison Printers League are mostly Cherry Willingham locals.
Eric Brocklesby, Honorary Secretary of the club commented "It is fantastic to see the players new kit and hopefully it will bring good results for the forthcoming season.  We have some good young players run by an excellent team manager so together with the new kit we are looking for a promising season".
Taylor Lindsey Homes have sponsored Cherry Willingham Football Club for over ten years and wish them a successful season.